How our software solves data, process and growth challenges for fashion brands.
PERFECT BUSINESS OUTCOMES
Itsperfect is more than just an operational ERP solution. We're an innovative, growth-focused software ecosystem for ambitious brands.
In a scattered technology landscape, we bring it all together in one place, so you can be in the driver's seat of your brand. From items to logistics and sales, we centralize all your data for easy admin and upkeep. Built specifically for fashion brands, we streamline processes for growth with best-practice in mind. Itsperfect's detailed analytics gives you the full picture of your business, not just a fraction. And with 50+ integrations, we can support whichever growth path you choose.
UPGRADE BUSINESS
OVERSIGHT
Always the right insights with one single point of truth for all your data from items, customers, supplier, vendor and production, across all channels and in all processes:
Built-in PDM

Pre-defined seasons & customisable delivery blocks

In-house developed API integrations

Easy import and export master data

Map your social responsibility with sustainability management

Advanced pricing and discount rules

Generate and edit barcodes, hang tags, collections, brands, fittings, designers and more
FEATURES TO CENTRALIZE DATA
Sell ​​multiple items in 1 assortment. An assortment is kept in stock and is purchased and sold separately. Its content is shown in the B2B webshop and on the order confirmation.
Upload 3D views to an item and display them in the B2B webshop. With 3D images, webshop visitors can view your item in 3D from all sides, to get a complete picture of each item.
With the cost charges feature you define in detail the costs that you add to the purchase price to determine a direct unit cost.
Sustainability management
With Sustainability management you record the registration at purchase and item level of standard, scope & transaction certificates. On the purchase order, you see all certificates under CSR.
Via the Product Data Management system (PDM), articles can be provided with a Bill of Material, Sizespecs and it is possible to purchase and consume materials (CMT).
Personalize your external documents. Only show the relevant information in your order confirmation and give your documents the look & feel of your brand. Of course in several languages.
With delivery blocks it is possible to divide seasons into different delivery times. Define delivery blocks at item level and deliver your sales orders in multiple drops.
Register your seasons at item level and manage seasons via PLM.
Easily import your basic data from Excel. And do you want to analyze your Itsperfect data in Excel? Then just as easily export your data.
Manage your EAN13 barcodes by item, color and size. Automatically generate barcodes, print labels and make your barcodes available to your sales channels.
Define themes and link them to an item or a specific color. Themes provide the possibility to filter quickly in the webshop and to create sales reports per theme.
With this feature you can register the designer for each item. The name of the designer is used purely for internal reports and is not visible in, for example, the B2B webshop.
Do you have various fittings? This feature allows you to manage them and select the right fit for each item. Communicate these in the B2B, sales order confirmation, delivery note and invoice.
When managing multiple brands, this features helps you to assign retailers to a brand, and adjust the representative and price group per brand. Each brand gets separate sales orders.
Register the details of your collection in detail and follow the creation of your collection step by step.
Easily assign washing instructions to an item, create templates for washing instructions, manually select icons and add a short description.
Use the CRM module to register all customer communication and plan future contact moments. And facilitate your agent to contribute to this in an easy way.
Itsperfect offers a wide range of integrated solutions. If you want to connect to another external system, we offer our RESTFUL API for this.
The advanced pricing & discount feature offers the possibility to have purchase and sales prices deviate per size, so that small or large sizes can be sold at a different price.
Take your brand to the next level with features that save time, streamline efficiency and deliver limitless expansion opportunities:
Full-service warehouse management system
Comprehensive CMT facilities
B2B webshop with real-time updates
Integrated retail module with own point-of-sale (POS)
Plug-and-play B2C e-commerce connections
Third party Marketplace integrations
Automated logistics and EDI communications tools
Increase turnover with Vendor Managed Inventory module
Manage multiple companies with Subsidiaries & Intercompany
Connected sales processes across your supply chain
FEATURES TO STREAMLINE FOR GROWTH
Add as much extra data as you need to lower your return rates and deliver the right info to your Marketplaces with our integrated Product Information Management (PIM) feature.
Create a purchasing requirement with the aim of purchasing inventory for your own use. Demand orders result in inventory reservations and can be converted via the delivery worksheet.
Run multiple loyalty programs and let consumers save points to pay with. Indicate for each loyalty program how and within what time points can be earned and spent.
Value Added Services (VAS)
Provide items with a service, such as tailoring, with Value Added Services. With this new item dimension you can add an unlimited number of services to the sales order for each item.
Manage multiple companies with the Subsidiaries module and define the correct subsidiary for each customer, item and vendor. With the Intercompany module you can settle between subsidiaries if necessary.
Create a size group with a selection of sizes. And select a size range for an item to show only the selected sizes for sales & purchase orders.
As a vendor, manage the inventory of your retailers, view retailer sales, gain insight into their sales figures, and generate distribution worksheets.
Match your purchase invoices according to the 3-way matching principle: purchase order, goods receipt & purchase invoice. This way, your invoices are checked on prices and quantities received.
Organize the communication with your vendor more efficiently and provide access to the vendor portal, where he can download all items with the corresponding specs and purchase orders.
Do you sell your collection through one or more distributors? With our distributor module you facilitate your distributors to create their own customers and have them order in the B2B portal.
Do you have 1 or more stores? Then our retail module with cash register (POS) is ideal. Fully integrated, real-time insight into store performance and a true omnichannel experience for your customers.
Itsperfect offers integration options with various Marketplace providers like ChannelEngine and TradeByte.
Our B2B webshop is accessible to agents & customers and gives them the opportunity to place (pre) orders, download documents such as invoices & delivery notes and register returns.
With this module you can connect MailChimp to Itsperfect, register your contacts for a newsletter, create segments based on tags that are synchronized and send targeted mailings.
Of course, we do not assume that you only do business in local currency. With the multi-currency feature you can create as much extra currencies as you need. Both for sales and for purchase.
Do you sell abroad? Then you often have to deal with different sizes. With size conversions you define the size per country, so your customers can see their preferred sizes.
Itsperfect offers standardized connections with your B2C webshop, such as Shopify.
Automate your entire warehouse with our complete WMS. Record inventory at shelf level, transfer goods between locations, or perform an inventory check, with a terminal handheld scanner.
With outbound scanning you check every delivery before it leaves the warehouse. Simply connect a barcode scanner, start scanning the picks and check the correct quantities.
Get a grip on your outstanding invoices! Itsperfect debtor management gives you full insight into the payment behavior of your customers and enables you to act at the right time.
With the consignment module, you register inventory at retailers that is still yours. Deliver goods on consignment, import store sales and invoice through an invoice worksheet.
We offer out-of-the-box connections with the most commonly used financial accounting systems, with which we can synchronize the various journals, so your accounting system is always up to date.
Accelerate, improve and simplify the product development process with the sample module and ensure efficient communication between purchasing, design and vendor.
3rd party logistics (3PL)
Automate your entire logistics communication towards your logistics service provider.
Our out-of-the-box EDI integration sends your data to retailers. Send order catalogs, order confirmations and deliveries digitally to your customer and receive their sales statistics.
UPGRADE BUSINESS OVERSIGHT
Make smarter business decisions with features that enhance your reporting and planning capabilities:
Customizable reporting dashboards
Library with fashion focused reports
Advanced cash flow analysis and delivery stats
Powerful PLM module
Seamless integrations with other reporting tools
FEATURES TO UPGRADE BUSINESS OVERSIGHT
With requisition you buy exactly what you need. Create purchase orders and send them directly to your vendors or publish them on the vendor portal.
Our external BI tool synchronizes the ERP system to an external SQL database. Decide for yourself which tables are synchronized and connect any BI tool of your choice to this data source.
With this functionality you can easily prepare the Intrastat declaration.
The targets module offers the possibility to define and monitor targets for sales, purchase and own stores. And view sales statistics from other angles.
Of course you always want to deliver what you promise, but you depend on the production time of your vendor. Our Available to promise module takes this lead time into account.
Complete insight into your company's performance, at any time and from any angle. From reports to personalized dashboards, from statistics to integration. With real-time information.
Quickly gain insight into the expected delivery date of a sales order. Automatically calculate this for all open orders based on current inventory, open purchase orders & set customer priorities.
Our PLM module offers structure and control in your entire 'Critical Path'. With a clear overview of deadlines across all departments, insight into milestones and clear reports.
As a user, define your own personal dashboard. Only show those statistics that are relevant to you and stay up to date with real-time information.
Ensure your fashion processes are connected throughout your entire business with our out-of-the-box integrations.
SEE ITSPERFECT IN <ACTION>
START YOUR SELF SERVICE ONLINE DEMO NOW
See the new standard of fashion ERP software in action with a self-service online demo.
Experience our user-friendliness for yourself
Fully online via any device, intuitive, and suitable for all departments, no IT knowledge necessary.
Check out all the features and modules
Especially developed for fashion brands, from ERP and B2B to PLM, WMS and sustainability management.
Discover integrated wholesale and retail
With own POS and one central place for all data for an omnichannel overview.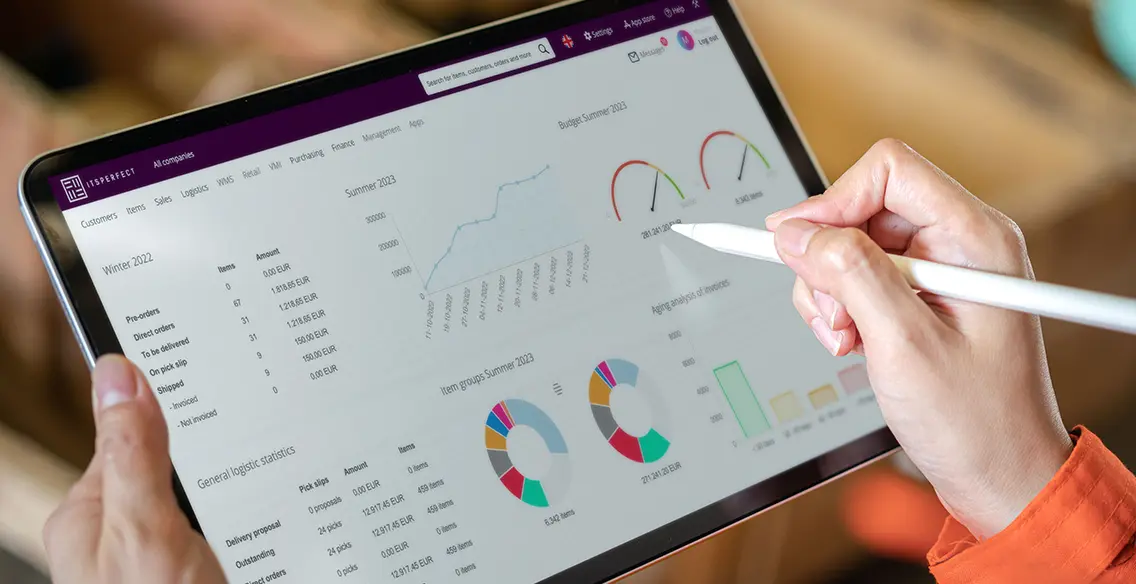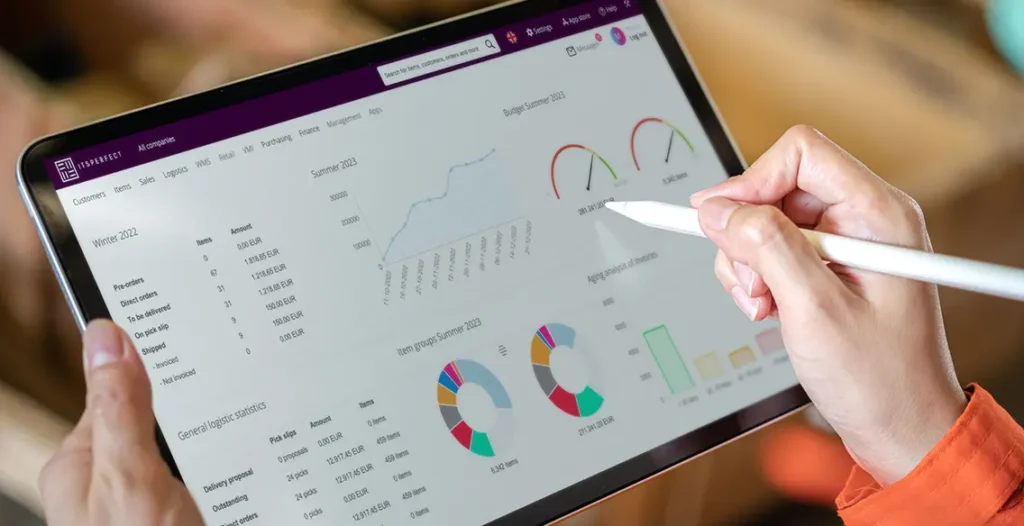 Not ready for a demo? Send us a message and get all of your questions answered!